Chapter house meeting room

(Currently Saint Claudine's Chapel)
The chapterhouse was built in the 17th century. It is surrounded by wooden benches on which the Carthusians took their place during the holding of the chapter.
The painting of Saint Anthony, the abbot, is the luminist work of Claude Vignon (17th century).
The Saint is recognizable by two attributes: the "tau" on his shoulder and the handbell used to brush aside the demons.
Before the Revolution, this painting was located in the hall of the royal chapel (now destroyed) of the White Penitents of "Notre-Dame du Gonfalon".
---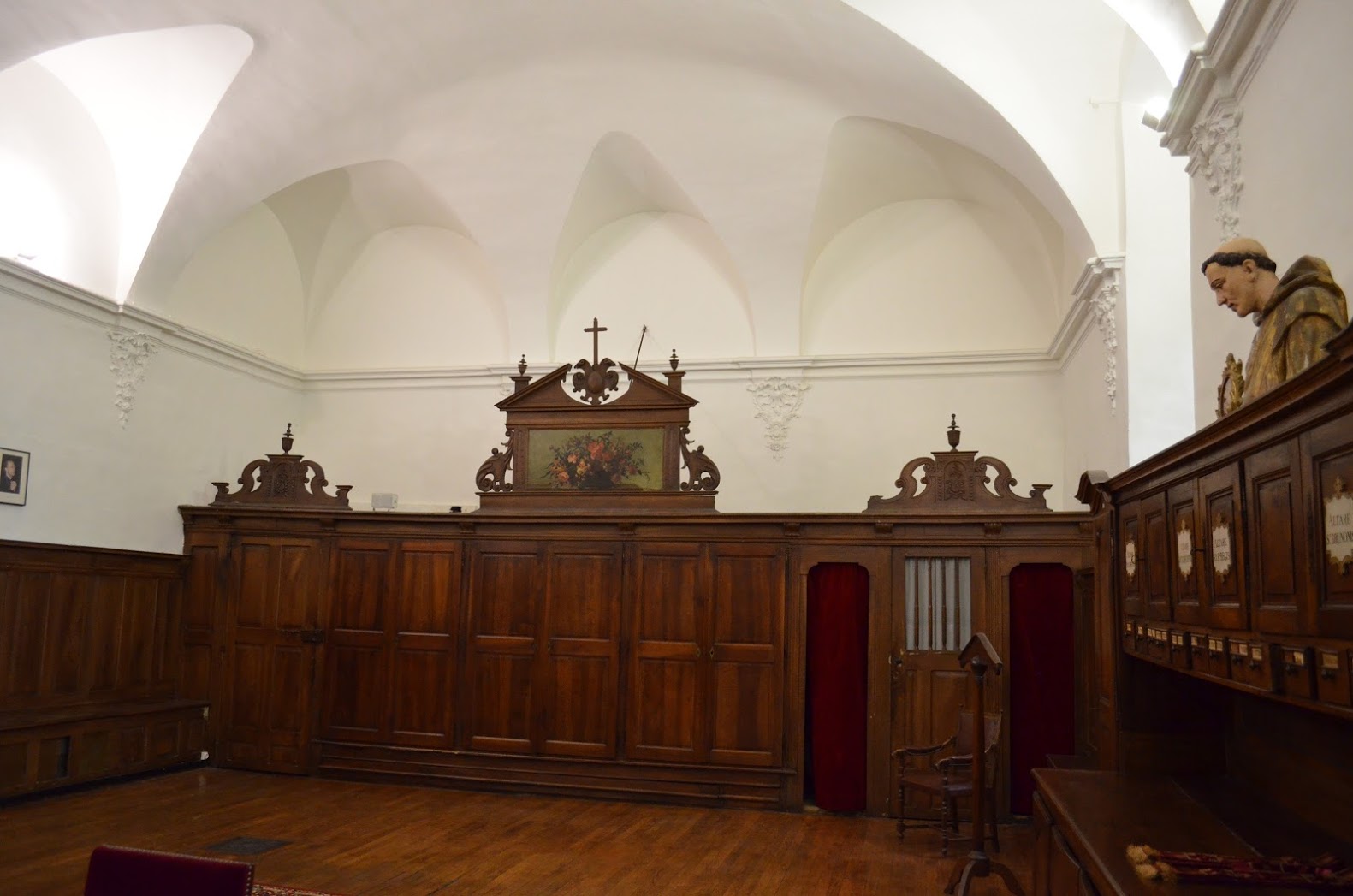 The Sacristy
The sacristy dates from the first campaign of works (17th century). It hasn't been changed since then. Beautiful penetrating vaults are separated from the walls by a cornice. The vaults were painted in the 17th century. Rocaille motifs soften the sobriety of the architecture whose structure they emphasize.
The furniture and the woodwork of 1620 made of walnut are characteristic of the Louis XIII period. Paneling surrounds the room. Skylight doors let in light at noon. Decorative patterns above the paneling and the skylight doors are also characteristic of the first half of the 17th century.
A wooden altar is painted in fake marble with bright colors; its sculptures are golden. The painting of "Saint Bruno in the desert" takes its place in an appropriate frame: a pilaster on each side and a broken curved pediment bearing a palm leaf. A large rocaille motif and palms highlight the Cross.
Photo Philippe Dumont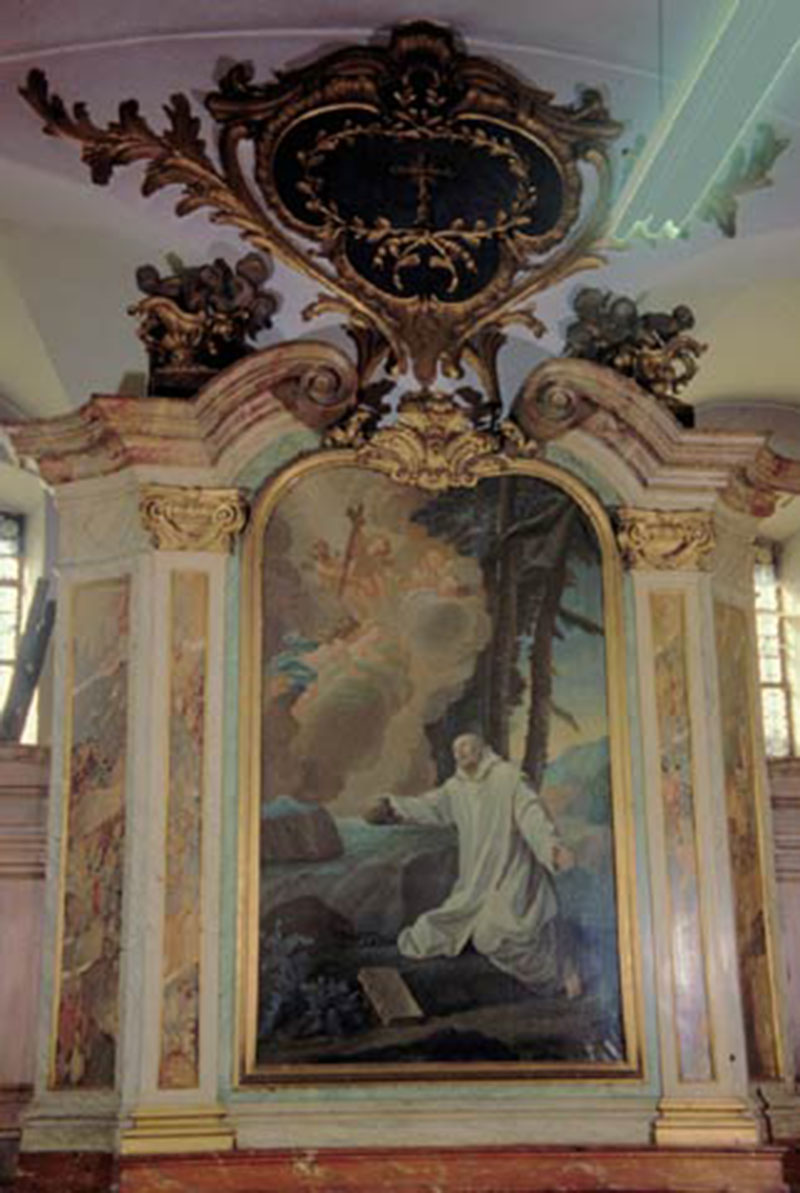 Altar of the Sacristy
Saint Bruno in the desert
Painting of Saint Bruno in the desert after Bon Boullogne : the saint, his hand on the skull of vanity, prays in the desert. Very kind cherubs are comforting him by showing him Christ's Cross.
This is the copy of a lost painting, known by an anonymous engraving dedicated to Dom Maurin, prior of the Carthusians of Paris.
Photo Pierre Clavel CRDP
---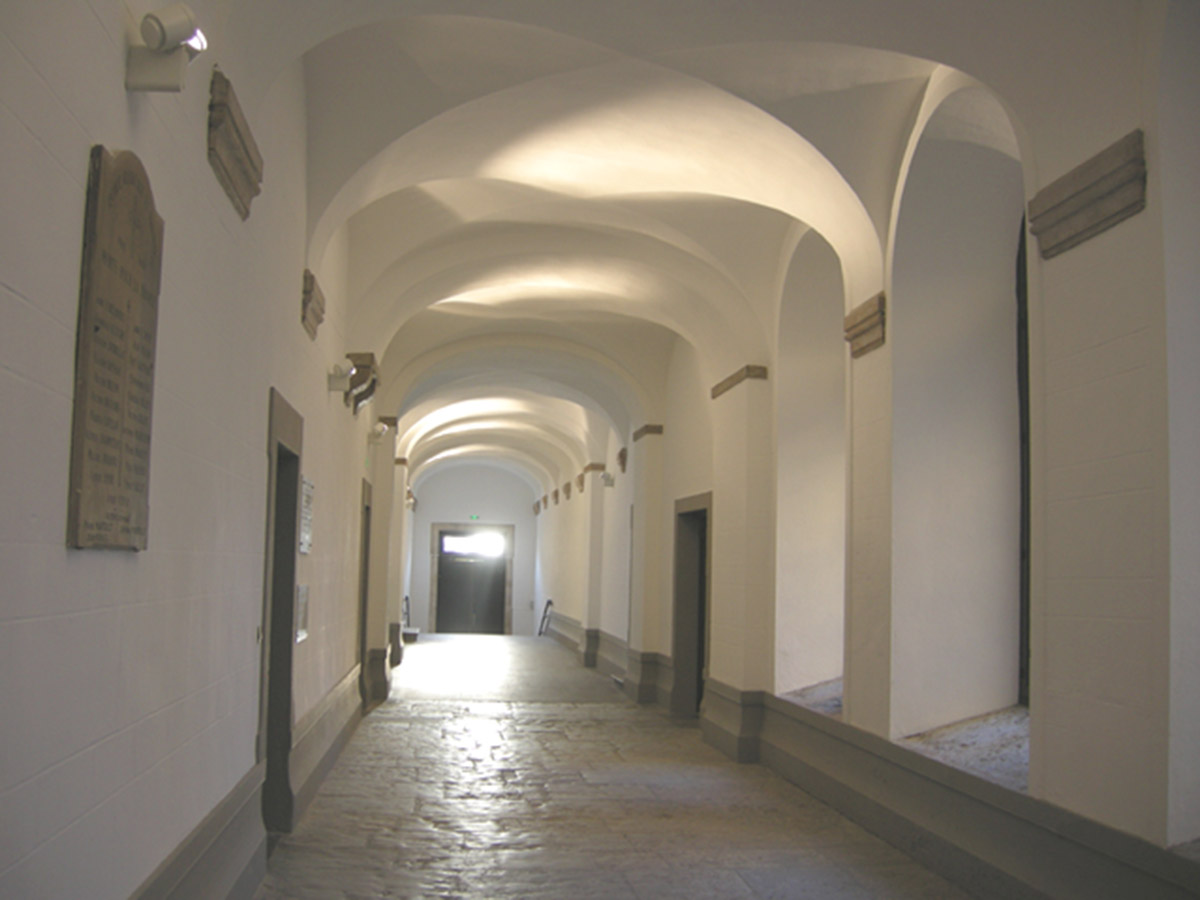 The small cloister

The small cloister dates from the first construction campaign; it was completed in 1631.
Arcades of semi-circular arches open into a courtyard which was used as a cemetery for the monks until the closing the Charterhouse in 1791. The gallery' roof is a ribbed cross-barrel vault. It was decorated with frescoes depicting scenes of the life of Saint-Bruno, painted in the 17th century by Horace Leblanc and François Perrier.
Photo Philippe Dumont